Our first radio chart! "To Your Ghost" (written by Matt Thomas) debuted at #8 on the Bluegrass Today grassicana chart this week. Thank you to all the DJs and all the listeners out there in radio land for making this happen.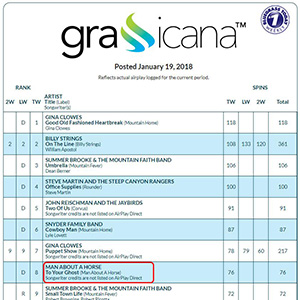 Spotify users can stream the song here:
In other news, we also made WXPN-FM (Philadelphia) hosts' picks for Best of 2017 for "Lay My Head Down and Cry" (by Dan Whitener) by The Folk Show's Ian Zolitor.
… and our cover of Radiohead's "Electioneering" was named to The Year's Best Coverfolk Singles for 2017 by the blog Cover Lay Down.
THANK YOU. WE LOVE YOU.
More press and reviews for "Man About a Horse."